Dubai's resident crown prince- 
Sheikh Hamdan bin Mohammad bin Rashid al Maktoum
, one of the richest people in the world and a semi-professional skydiver is in the news again.
Fazza
, as he is popularly called recently uploaded a video, seen by almost a million people, showing a surreal view of the famed "
Golden City
".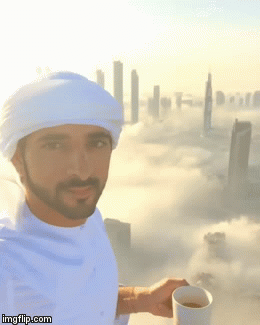 The video goes on to show the world-famous Dubai skyline engulfed in an out-of-turn fog, turning the view beautiful beyond words.
Here is the video shot by the crown prince.
Hope you enjoyed the video, just like we did!